It has been one year since the world seemingly shut down in response to a new virus that had begun to spread rapidly. At Keck Medicine of USC, hospital leadership had been meeting since January 2020 to determine what measures the health system should take to keep patients, physicians and employees safe from COVID-19.
"Looking back at a year ago, we didn't know how much the world would change, just that we had to be prepared to meet it when it did," said Rod Hanners, interim CEO of Keck Medicine of USC. "Our primary goal was to follow the latest discoveries and make science-based decisions that would keep our patients and staff safe."
---
A pandemic is declared
In the beginning, this meant adjustments to life-as-we-knew-it: business travel bans, canceling in-person events and emphasizing personal hygiene measures. New internal and external webpages were established, hotlines and dedicated email addresses opened and a mass exodus from campus as a significant portion of university and hospital employees shifted to working from home.
Keck Medicine leadership announced a pause in elective procedures on March 18. Telehealth credentials were expanded to all health care providers and the hospitals enacted a no-visitor policy. Across Keck Medical Center of USC and USC Verdugo Hills Hospital, building entrances were limited and temperature screenings, hand sanitizing and mask-wearing quickly became the norm. Testing for COVID-19 expanded, with Keck Medicine serving as a high-volume patient testing site early in the pandemic.
Across the United States, there have been more than 29 million confirmed COVID cases, with 4 million hospitalizations since the pandemic was declared.
Community responds to need
Amid the toilet-paper shortages and cleaning supply buying frenzy of the early pandemic, the community stepped up. Donations of personal protective equipment, meals and comfort supplies were offered from across the university, city, state and even the world. Labs from across USC donated goggles, 3D printed masks, gowns and other supplies.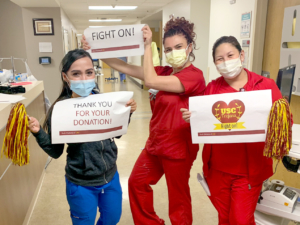 Keck Medicine launched the Care for the Caregiver program, offering groceries, toiletries, hotel stays, mental health support and more for frontline workers. Thanking health care workers for their hard work became a movement, as public safety departments paid tribute to hospital workers and unsung heroes like the environmental services staff were recognized widely.
And staff from all areas adapted: nurses supported each other as they faced an unknown virus; leadership at USC Verdugo Hills Hospital transformed its emergency department to separate COVID-19 patients from the general patient care areas; caregivers quarantined when possibly exposed to the virus; surgical residents trained as critical care nurses; Employee Health worked to keep standards high and staff healthy; the Patient Experience team focused on offering comfort and assistance to patients throughout an uncertain time while Human Resources supported staffers; the Keck School of Medicine of USC's Street Medicine team offered care to vulnerable populations as a first line of defense against a COVID-19 outbreak; and the clinical pharmacy team prepared for surges in patient needs.
More than 1,000 COVID-19 patients have been treated and discharged across the health system.
Learning about the virus
As more studies came out about the novel coronavirus, researchers from across USC contributed their findings to the global understanding of COVID-19. Clinical trials for COVID-19 treatment, as well as a COVID-19 Research Task Force and an online training course for physicians to step into the ICU, gave USC an advantage in understanding the virus and treating patients. Studies also looked at how the pandemic affected everyday life and what measures were necessary to safely reopen society.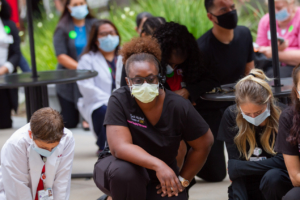 In May, Keck Medicine resumed surgeries and outpatient procedures, and staff once again adapted to a new normal of allowing in patients and visitors to hospital and ambulatory locations, while also maintaining heightened cleanliness standards. Celebrating milestones like commencement and Mother's Day took on a different look. In June, Keck Medical Center, the Keck School and USC Verdugo Hills Hospital held a socially distant gathering in solidarity with the organization White Coats for Black Lives and Keck Medicine held a virtual Pride Week.
Throughout the rest of the summer, health care workers maintained a high level of care among COVID- and non-COVID patients. As fall started, news of promising vaccines brought a glimmer of hope to the campus, though the holidays brought their own share of troubles — the emotional toll of a year spent socially distant, along with pandemic exhaustion, contributed to a surge Los Angeles had not seen before.
More than 36,000 vaccine doses have been administered (as of 3/3/21) at three sites: Norris Healthcare Center, USC Verdugo Hills Hospital and USC Student Health.
Vaccines spark new hope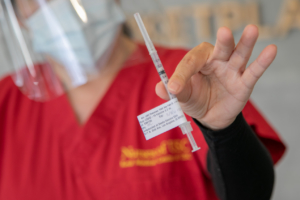 Communication about COVID-19 began shifting in December from safety reminders, to news about the Pfizer-BioNTech and Moderna vaccines, which earned emergency use authorization from the FDA. The first vaccines were administered in late December, with teams from the USC School of Pharmacy, the Keck School and Keck Medicine taking the lead to roll out a mass vaccination effort for health care workers and patients over 65. And as the country neared the year anniversary of the pandemic, health equity was top of mind for health system leadership, with Keck Medicine dedicating several days of vaccine clinic appointments to residents of medically underserved communities.
"I have so much pride in the way we have handled the pandemic at Keck Medicine — every member of our organization has gone above and beyond to keep our patients and each other safe from day one," Hanners said. "As we continue to administer vaccines and push forward into a post-pandemic world, I'm confident that our team will be ready to meet whatever the future will bring."