The primary goal of the ambulatory services team at Keck Medicine of USC is to make sure that staff, physicians and patients are safe. To help prevent COVID-19 transmission at various Keck Medicine clinic locations, Laurie Johnson, chief ambulatory officer, and Angela Price, manager of ambulatory services, and their teams have conducted walkthroughs of many of the 90 ambulatory locations.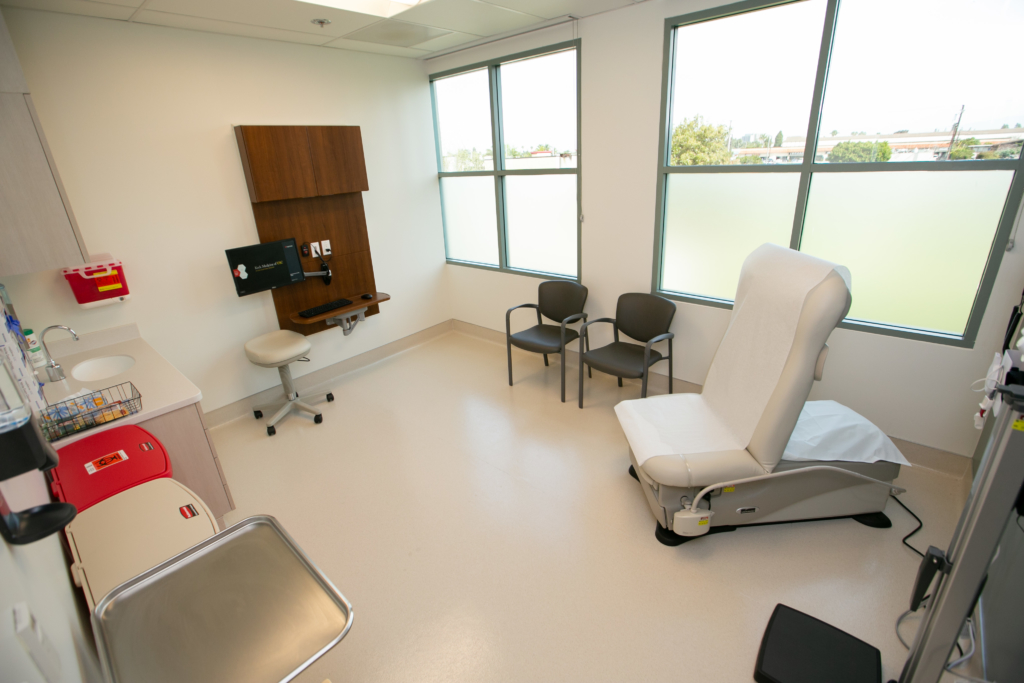 Cleanliness and hygiene
National health authorities state that practicing good hygiene and sanitation are critical to minimizing the risk of spreading COVID-19. As the ambulatory services teams reviewed their protocols, they closely examined every step of a clinical appointment to better understand the needs of patients, faculty and staff.  
Johnson and Price worked with the location directors to walk through the patient journey from arrival through check-out to ensure a thorough understanding of the different scenarios that may arise. Because of the high priority Keck Medicine places on the patient experience, the team felt it was important that patients know the steps being taken to assure their safety.
"Each patient that comes to our practices needs to know they are walking into a safe environment. As we have done in the past, every time a patient leaves, we thoroughly wipe down the exam room," Price said. She added that waiting rooms are sanitized, including desks, chairs and anything else a person may touch during the check-in or check-out process.
Johnson stressed the heightened presence of environmental services staff in each building.

"The common areas in our medical office buildings areas are handled by our EVS teams on campus. Additional cleaning in the elevators, waiting areas, restrooms is now a best practice.  Members of our environmental services team are important partners in this process." 
Johnson added that new processes have been implemented in the practices, and attention to detail for the most commonly touched objects is also an area of focus.

"Many of the practices have 'clean' pens and 'dirty' pens," she explained. "Once your pen is used, you put it in the dirty pen box, and then those are all wiped down in between patients. If we are using clip boards for completion of forms, the staff are cleaning the boards between patients. We will be implementing a 'No Touch' check-in process which will allow the patient to check in on their phone as opposed to having to check in at the front desk."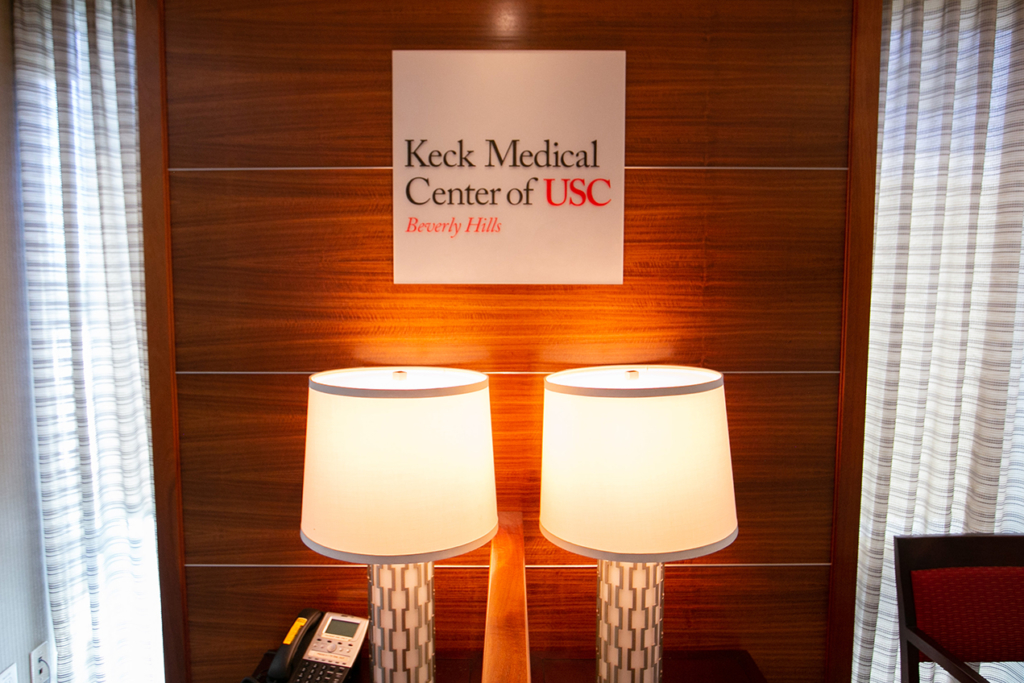 New processes for patients
Johnson and Price added that the way Keck Medicine prepares patients for their visit may be different. For starters, everyone who enters a Keck Medicine building must be screened, temperature checked, and given a surgical-grade mask and green sticker before they're allowed to enter.
For some locations, patients are now instructed to wait in their cars instead of the waiting room. Once an exam room is ready, the patient receives a text notifying them that they can come in.
Patients will notice signage reminding them about the screening process and hygiene, less waiting room furniture, safety shields to protect the staff, signs on the floors advising them where to stand, and notices to maximum occupancy in elevators and waiting areas.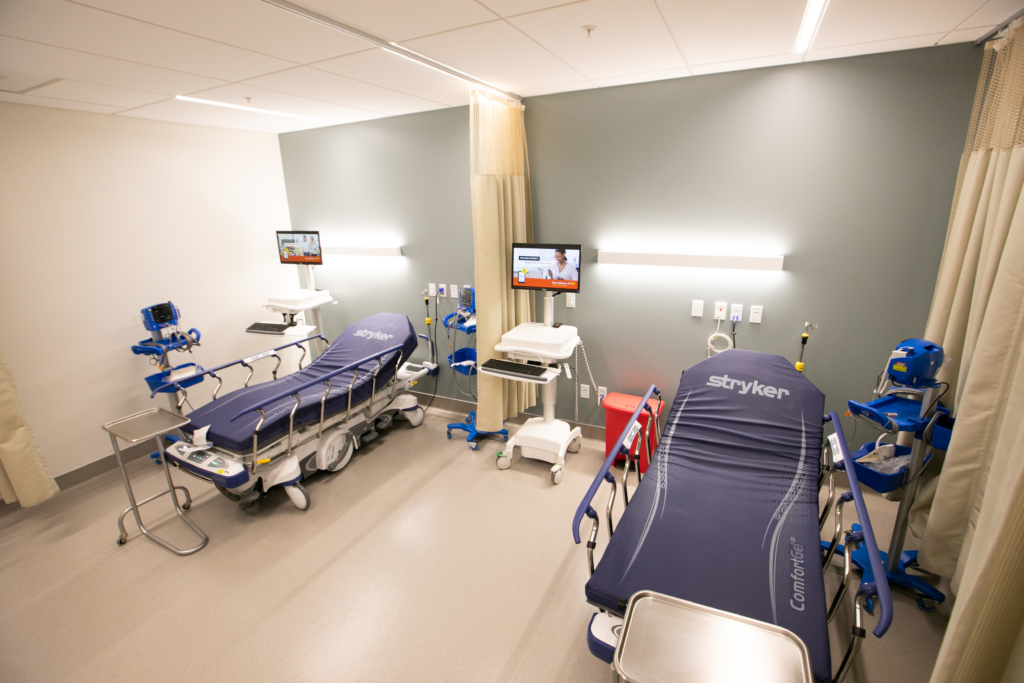 Taking patient service a step further
With layouts and procedures changing, patients often require guidance that goes above and beyond what was previously provided. As a result, patients are now getting "concierge service," according to Price, whether the appointment is provided in-person or through telehealth.

For example, patients with telehealth appointments are often contacted beforehand to make sure they understand how to use the virtual visit app on their smartphone or computer. They are even directed to videos to help them through the process, when necessary.
For those visiting in-person, once they pass the screening point, they may encounter a host or hostess who will escort them to their appointment, especially if the patient has multiple touchpoints at that location.
According to Price and Johnson, the overall patient feedback has been positive, whether patients saw their physician in person or virtually.
"I think as we move forward, we're going to probably continue our concierge service because our patients are really excited," said Price. "They deserve that level of service."
Price and Johnson continue to encourage ambulatory team directors and managers to share their ideas so that all locations can quickly adapt and respond to the everchanging needs of patients, staff and physicians. For Johnson, her greatest satisfaction has come from knowing she and Price have taken measures to assure the safety of Keck Medicine patients.
"I feel comfortable with the processes our managers and directors have implemented to just make sure that our patients are safe," she said.
— Kate Faye