Having worked for many years in emergency preparedness, Bob Vance is well-accustomed to planning for possible scenarios that most people would rather not think about. As director of the Safety and Emergency Management, Business Continuity and Radiation Safety Program at Keck Medicine of USC, he stressed the magnitude of the COVID-19 crisis as early as March.
"We dealt with Ebola and SARS, and we've had large power outages and things of that nature, but all the things that we've had — nothing can prepare you for an event this size," Vance said. He later added, "Nothing's been like this. I don't think I'll ever see anything like this again in my lifetime."
In response to the pandemic, Vance and his team have been working diligently to make sure the hospital staff have everything they need.
"We're making sure that we're getting supplies in from outside resources like the county and other donations, and then making sure the supplies are secure and then shipped to the nursing stations as needed," he said. "Also logistically planning for food and water, and just normal things that we would take for granted during a normal workday."
Stationed at Keck Medicine's COVID-19 Command Center along with other crucial decision-makers, Vance has swapped out his usual suit and tie for scrubs and a mechanic's one-piece jumpsuit. The new ensemble makes it easier for him to safely move back and forth between the Command Center, the Medical Evaluation Tents and the Employee Health Tents with minimal risk of infection transmission.
"Just from the command center, we take care of not only their nourishment needs, food and water, but special needs," he explained. "A couple of weeks ago it was raining, and we had to get boots, rain jackets, and things like that so they wouldn't be soaked out in the rain. We also make sure that when [frontline workers] need a piece of equipment, we can get out there."
There's more to his strategy than offering support and help. It's also designed to minimize infection risk among the hospital staff.

"We have to limit the number of people going out there so that we don't cross-contaminate or have people that are outside doing testing coming into the building," he said. "We're the people that do that. So when I go out I put [the jumpsuit] on, and then when I come in I shed it."
Vance and his team also serve as a primary source of COVID-19 information for Keck Medicine and beyond. Not only do they create regular reports covering pandemic milestones, mutual aid resources, operational call volume and more, they also communicate with the county regarding topics such as bed count status and ventilator inventory.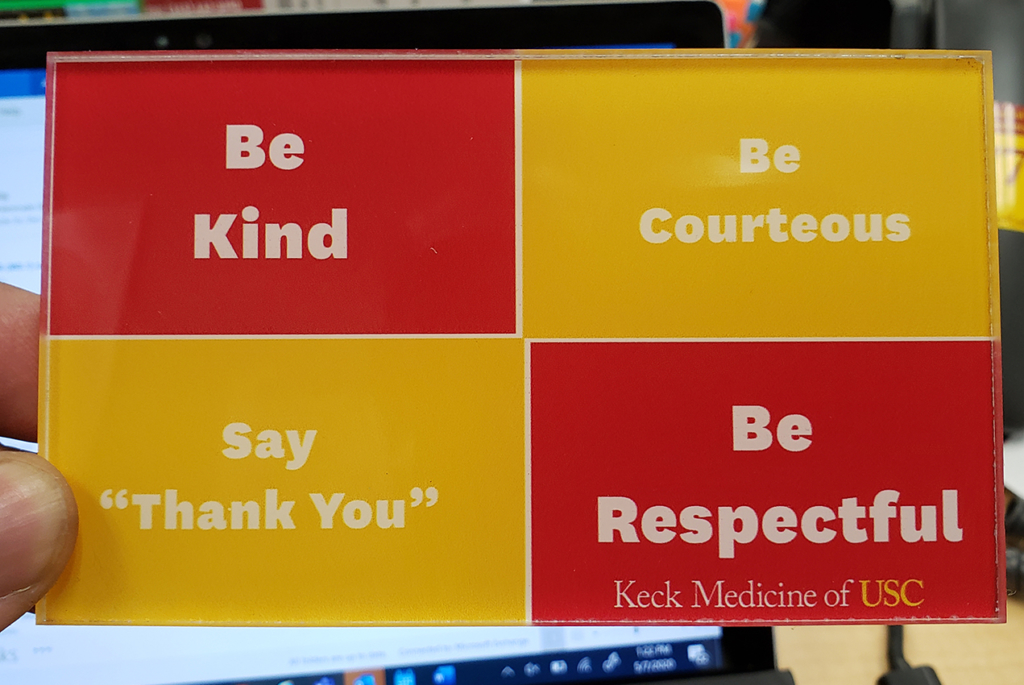 On top of managing communication, inventory, best practice audits and problem-solving, Vance also places a strong focus on keeping morale up in the Command Center. He expressed particular pride in a mantra that eventually evolved into a visual campaign that can now be seen throughout the organization.
"We were able to come up with a daily mantra," he explained. "We made signs and mousepads from it, and other little desktop things. They say, 'Be kind,' 'Be courteous,' 'Say thank you,' 'Be respectful.' The signs are posted all over the place to remind folks, 'In this crisis, we in emergency management want you to remember these things and try and hang on.'"
Vance's long-time colleague Oswaldo "Ozzy" Montiel agrees on the importance of kindness and support during this time, emphasizing his pride in the Care for the Caregiver program that his team helped to orchestrate.
He also emphasized the development of effective best practices as the key to managing this crisis effectively.
"It's wonderful to see the organization work through this event," Montiel said. "I'm eager to see the best practices and lessons learned. It gives us an opportunity to prepare for the next pandemic. Because unfortunately these viruses are something that we're going to have to really prepare for. We've had three or four since the turn of the century. So it's wonderful to see how we've come together to respond."
Vance also expressed pride and optimism regarding his team's ongoing response to the pandemic.
"We've had some really nice things to come out of this," he said. "One for me, as an emergency manager, was being able to help our other hospitals. For example, when [USC Verdugo Hills Hospital] needed gloves, we were able to go into our storage area and ship them out. That really made it for me, that we had enough here to help others."
— Kate Faye