From June 22 through June 26, Keck Medicine of USC celebrated Keck PRIDE, a week devoted to recognizing the health system's diverse lesbian, gay, bisexual, transgender and queer (LGBTQ+) staff and its commitment to providing affirming care to LGBTQ+ patients. Despite the need to celebrate virtually due to ongoing concerns surrounding the COVID-19 pandemic, employees came together to promote messages of inclusivity and equality.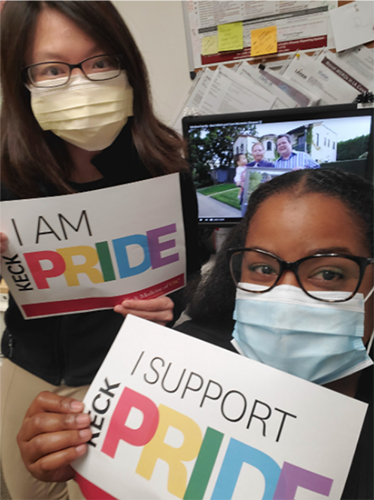 "For us, medicine is not simply a set of actions to improve physiological ailments of the body," said Rod Hanners, interim CEO for Keck Medicine. "Rather, it is a holistic approach to maintaining the spirit and strength of our community which includes fostering environments of diversity, equity and inclusion. Our objective is to simply heal those in need, and I am humbled each and every day by our organization's dedication to accomplishing this goal."
This year's celebration featured a number of enterprise-wide activities, including a virtual scavenger hunt, a photo contest and a webinar that provided inclusive communication strategies to help resolve LGBTQ+ health disparities.
"I really appreciated all the remote/virtual efforts for Pride this year, especially acknowledging some of the great resources that I didn't know we already had," said Bryan Homyak, an RN supervisor at USC Verdugo Hills Hospital.
In 2015, Keck Medicine established Keck PRIDE, a program meant to ensure that the health system implemented best practices for LGBTQ+ inclusivity. The initiative reviews Healthcare Equality Index (HEI) recommendations and guidelines provided by the Human Rights Campaign Foundation (HRC) on a yearly basis and prioritizes implementation strategies that align with the organization's goals for patient care, employee engagement and community benefit.
"It has always been important for me to be able to bring my whole self to work and to help create an environment where others feel known and seen," said Lindsey Lawrence, process architect for Keck Medicine and chair of Keck PRIDE. "I'm very proud of all the progress the health system has made over the past five years, and I'm proud of leadership's commitment to eliminating barriers to care for our LGBTQ+ communities."
In the five years since its inception, Keck PRIDE has provided over 1,000 hours of LGBTQ+ health training across the health system and has overseen the creation of policies and resources aimed at sustaining a safe and welcoming environment for LGBTQ+ patients, families and employees. These include developing a public-facing LGBTQ+ health webpage, working with the health system's IT team to expand sexual orientation and gender identity options in Keck Medicine's electronic health record (EHR) application, plus establishing additional protocols for interacting with transgender patients, including room assignment and restroom access policies.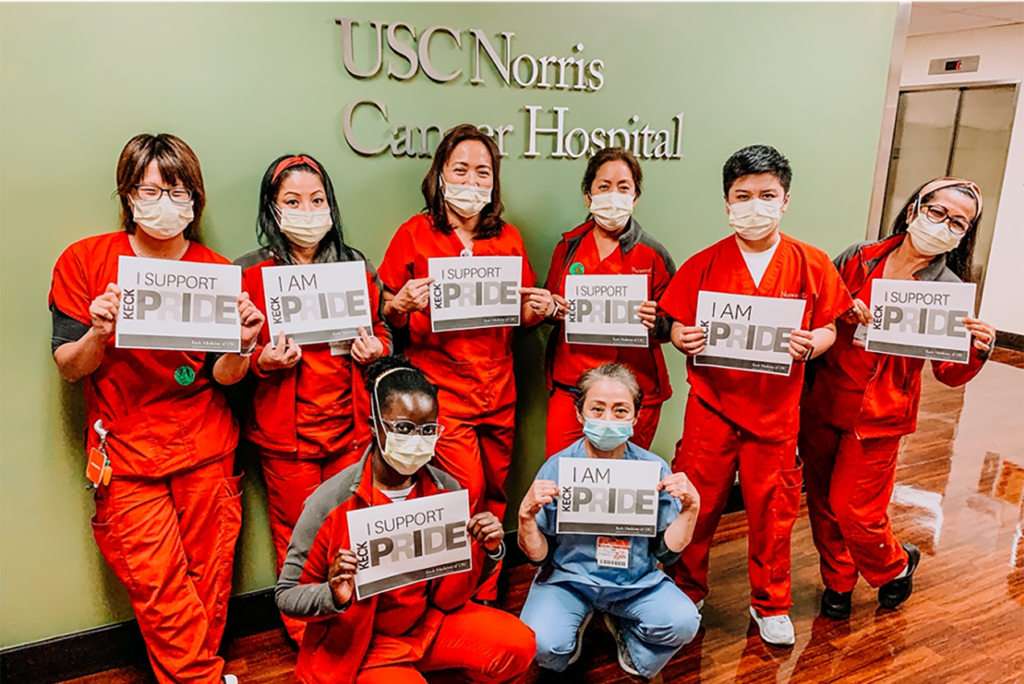 "Keck PRIDE has had a tremendous impact, driving the implementation of many inclusive policies for the LGBTQ+ community and creating a more equitable environment for staff and patients," said Felipe Osorno, Keck PRIDE executive sponsor and the executive administrator for continuum of care operations and value improvement at Keck Medicine. "We have expanded our impact on the community with the sponsorship of scholarships for LGBTQ+ youth pursuing careers in the health fields and other programs in East Los Angeles."
As the organization continues to ensure that health system access and services are inclusive to people of every sexual orientation and gender identity, a top priority will be bettering the ability to connect LGBTQ+ patients with providers and developing a clear, central source of all transgender health services offered.
"Foundational to the Keck Health System are the values of respect, diversity and inclusion," said Theresa Murphy, Keck PRIDE executive sponsor and chief nursing officer for USC-VHH. "Keck PRIDE serves as an important pillar in this effort, bringing awareness, education and sensitivity to the health care needs of the LGBTQ+ community. These efforts result in enhancing access to care for a community that has often been marginalized. With the current appreciation and focus on Black Lives Matters and gender equality, Keck PRIDE stands in solidarity with these other initiatives and is committed to creating a strong and forward-facing academic health care environment to serve our communities."
Keck Medicine is a proud sponsor and participant in local LGBTQ+ events, including the Latino Equality Alliance Purple Lily Awards and the Calavera LGBTQ Festival, the Southern California LGBTQIA Health Conference and the LA Pride Parade.
— Matthew Vasiliauskas