For those working in health care, responding to the COVID-19 pandemic has been a team effort. At USC Verdugo Hills Hospital, a core group got to work on preparation efforts as early as January to ensure that the hospital and community were ready to face the challenges ahead.
This multidisciplinary team, composed of representatives from infection prevention, administration, medical staff, human resources and nursing, analyzed the spread of COVID-19 domestically and abroad and collaborated on a response plan. While the infection prevention team trained frontline staff on screening and treatment precautions, administrators organized informational meetings in the community to educate the public on ways to decrease the risk of infection.
"Our multidisciplinary team of decisionmakers allowed for early, rapid analysis and quick action," said Mary Virgallito, RN, director of quality and patient safety at USC-VHH. Virgallito oversaw the implementation of new safety protocols and updated the core leadership team whenever new information regarding the virus became available.
When potential COVID-19 patients were identified, the team began meeting twice daily, once in the morning to determine action items and once in the afternoon to assess outcomes and determine any other changes that needed to be implemented.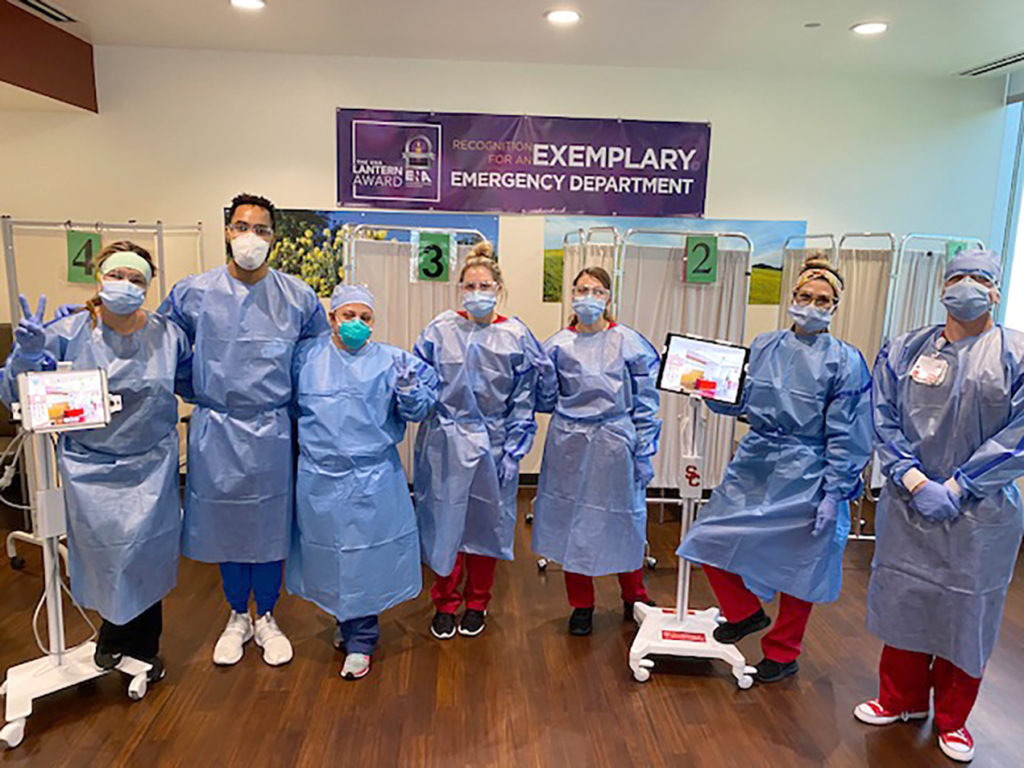 "Our leadership was onsite each day, including nights, weekends and holidays, rounding in the patient care areas and working tirelessly to keep our hospital supplied and our staff supported," Virgallito said.
Some team members took on new roles during the busiest stages of surge planning. Kristi Cohen, director of human resources at USC-VHH, led the launch for on-site testing, which meant developing protocols for administering tests, ordering necessary supplies and offering training. This effort was in addition to her usual responsibilities of ensuring that employees had adequate resources — this now meant including new services like on-site grocery shopping, housing, mental health support and comfort care.
"In the middle of this crisis, our team came together to work toward a common goal," Cohen said. "When we look back on this time, we'll remember that we were energized by the unique opportunity to do something great."
These initial efforts empowered USC-VHH to move forward into a new normal, even safely bringing back elective procedures and some surgeries.
"We worked together to anticipate the next two, three steps ahead," Cohen said. "Ultimately, that was the key to our success."
— Mary Dacuma Ferguson