By late March, the Health Sciences Campus had emptied out as students, staff and faculty sheltered at home to prevent the spread of COVID-19. However, it was simply not possible to halt all research, construction and case-by-case campus access needs.
Since then, the Keck School of Medicine of USC's Facilities and Space Planning team has been diligently showing up every day to keep essential activities up and running and to prepare campus for gradual business resumption.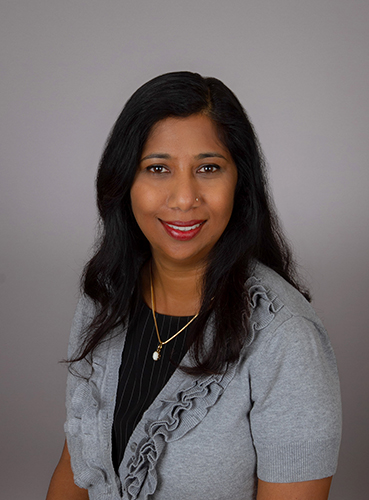 They are hard at work granting access to essential employees, installing sanitation stations and managing personal protective equipment (PPE) donations.
Sri Sankarapu, director of Space Planning at the Keck School, manages the Facilities and Space Planning team responsible for overseeing 19 buildings on the Health Sciences Campus where the Keck School has a presence. She said they're working harder than ever as frontline responders to handle any facilities and logistics needs that arise. Sankarapu said the work has been manageable thanks to her team members taking initiative and adapting to situations swiftly and cooperatively.
When the shutdown began, her team was responsible for winding down all business and research activity across campus, while still allowing access for essential personnel. The facilities coordinators were entrusted with monitoring 11 research buildings and allowing essential access to ensure the preservation of years' and millions of dollars' worth of frozen research samples. When a city power outage hit numerous research buildings on a Friday evening, the facilities coordinators showed up in full force by Saturday morning and spent the entire day authorizing access for essential researchers to check on their samples.
Sankarapu's team has been tasked with implementing building access privileges for all essential personnel, and she credits facilities coordinator Jose Cea for his diligence in processing badge access requests for essential employees and remaining on call to troubleshoot issues that arise. The Facilities and Space Planning team also must prepare on-campus sites for summer construction. When students were asked to stay home, they left behind personal items in classrooms slated for renovation, so Heather Pupecki, Space Planning assistant, took responsibility for clearing away personal belongings and storing them safely in anticipation of the students' return.
The team members created a rotation system to split their duties, ensure social distancing and allow each team member some stay-at-home days. Still, Sankarapu said everyone has been quick to offer support and show up to assist without hesitation in case of emergencies. She highlighted team members Wayne Tulloss, Rusty King, Ryan Maier and Alfred Ascencio, as well as William Myles, the Keck School's Emergency Preparedness administrator, for stepping up and making the campus-wide ramp-down as seamless as possible.
"I have a very proactive team, and I'm really, really thankful for them," Sankarapu said.
— Alexandra Demetriou