Keck Medicine of USC is gradually resuming a limited number of medically necessary, time-sensitive surgeries and outpatient procedures at Keck Medical Center of USC, USC Verdugo Hills Hospital and select ambulatory locations as of May 4. These steps are aligned with the American College of Surgeons guidelines and reflect the statewide governance and public health models indicating manageable levels of COVID-19 cases in Los Angeles County.
"Many people are in need of medical care because they postponed surgeries and procedures to allow hospitals to intensely focus on a COVID-19 surge," said Stephanie Hall, MD, chief medical officer of Keck Hospital of USC and USC Norris Cancer Hospital. "We feel confident in our ability to provide care safely and are closely monitoring our resources and local public health information in the event that we need to quickly adjust to ensure the best course for patients, our staff and the community at large."
Updated health system operations
The following procedures have started with expanded operations planned for the week of May 11.
Non-emergent but medically necessary elective surgeries and procedures are being performed at Keck Medical Center, USC-VHH and select ambulatory locations.
USC Norris and Health Care Center 4 has resumed outpatient procedures, including orthopaedic, otolaryngology, gynecologic, breast, colorectal, spine and general surgeries.
Keck Medical Center has maintained outpatient radiology services throughout the pandemic and is now expanding cardiac screening, mammogram and radiation oncology services.
USC-VHH has reopened its gastrointestinal lab for endoscopic procedures and resumed geropsychiatric services with additional safety precautions.
Safety measures to protect patients and staff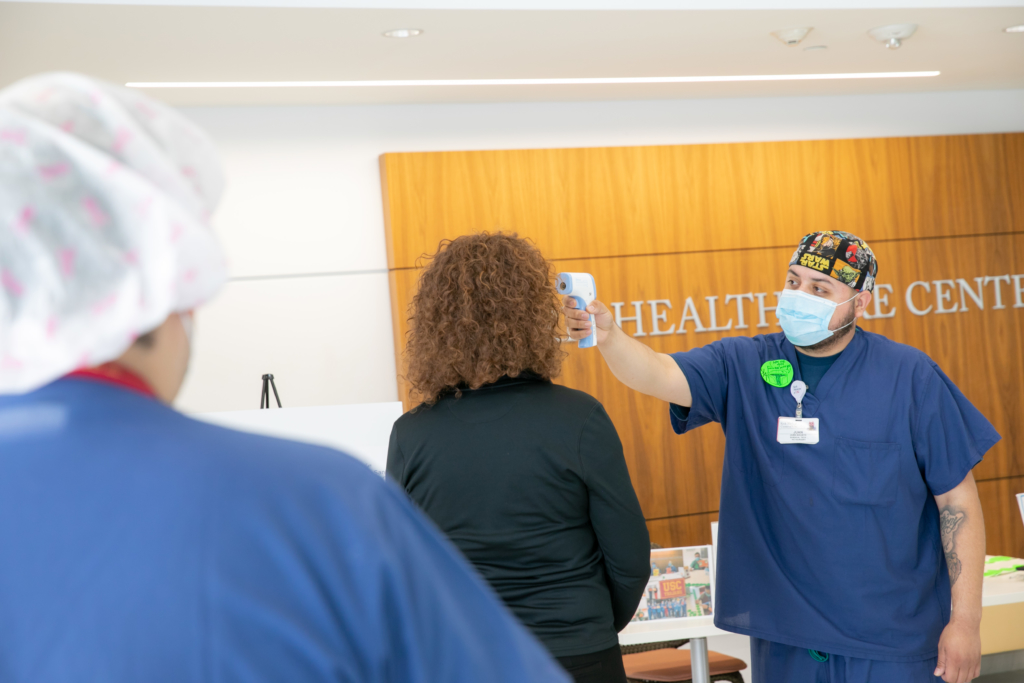 Throughout the pandemic, Keck Medicine leadership has reported strong staffing levels, sufficient PPE supplies and availability of regular and ongoing employee testing for COVID-19. During this time, the health system staff has safely provided urgent non-COVID care using a robust infection prevention protocol in line with guidance from local governance and professional medical organizations:
Patients and health care workers are thoroughly screened at entrances, including temperature checks, and are required to wear a mask.
COVID-19 patients and dedicated care teams are isolated on separate floors, using exclusive walkways and elevators.
All pre-operative patients are tested for COVID-19 at least 72 hours prior to their appointment. Any patient that tests positive will be rescheduled.
Clinical areas are thoroughly cleaned and disinfected prior to use.
Patients in waiting areas must socially distance by standing at least six feet apart.
Telemedicine services are available for all patients who do not need in-person care. Keck Medicine is seeing nearly 1,000 patients daily through its virtual platform.
Learn more about Keck Medicine's COVID-19 efforts by visiting its COVID-19 website. For more information about how USC is handling the outbreak, please visit usc.edu.
— Alison Rainey