Keck Medicine of USC employees are working extremely hard to respond to today's rapidly changing circumstances. This ongoing series shares the experiences of faculty and staff and their responses to the crisis. This story will focus on the team providing screening for COVID-19 the safest way possible — from a specialized, outdoor tent.
While Keck Medicine gradually reopens for elective patient care, it remains important that patients and staff have a safe, simple way of being screened for COVID-19.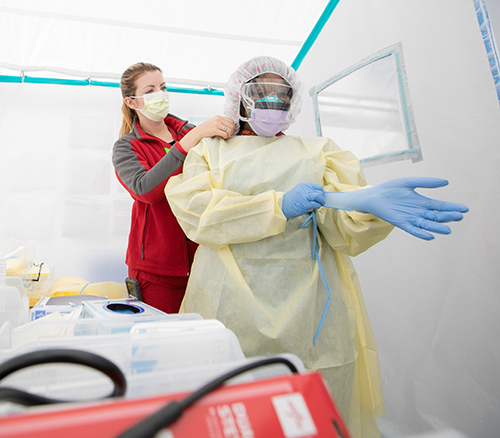 The medical evaluation tent and drive-thru tent at the Keck Medical Center location are still up and running. As of the most recent update, hours are as follows:
Medical Evaluation Tent
(By referral only)
Monday through Friday, 9 a.m. to 6 p.m.
Drive-Thru Testing Area
(For Employee Health and pre-operative patient testing; by referral only)
Monday through Friday, 7:30 a.m. to 3:30 p.m.
Saturday and Sunday, 8 a.m. to 2 p.m.
Keck Medicine recently opened a second testing location in Arcadia for added convenience and accessibility. Tests are still by referral, and each patient will get detailed instructions before their visit. Hours are as follows:
Arcadia Testing Location
(By referral only; instructions provided to approved patients)
Monday through Friday, 9 a.m. to 4 p.m.
Building and staffing the tents: a system-wide collaboration
When it became clear that Keck Medicine would need to prepare a COVID-19 testing and evaluation venue, leadership quickly mobilized to make sure every relevant department would be ready to pitch in. According to Michael Wang, MD, assistant medical director of the medical evaluation tent, Keck Medicine leadership worked with staff in facilities, parking, materials management, laboratory and more to ensure the tent would "be prepared to meet this health care need in the safest and most effective way."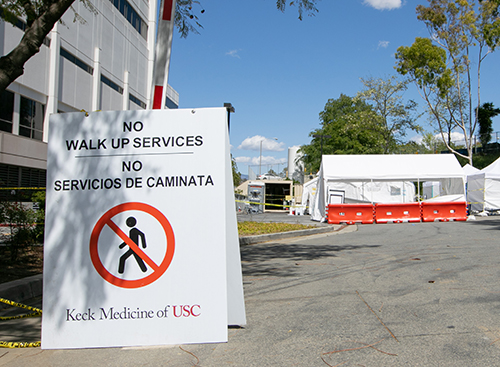 Infection prevention measures
Tent leadership immediately recognized that certain processes would be crucial to help keep infection risk of the highly contagious virus at a minimum.
Joanne Suh, MD, the medical evaluation tent director, explained that all surfaces are wiped down every two hours — which are marked by a reminder alarm. These cleanings go into a log that goes to Peggy Matsuura, RN, tent operations manager, at the end of every shift.
There are also policies in place to ensure the right people get tested and that they receive the care, referrals and guidance they need.
"The patients that are coming to the medical evaluation tent are all planned," Matsuura explained. "They're coming from referrals from telehealth."
Recently pre-op patients and clinical trial participants were added to the list of people eligible for testing. While anyone referred to the medical evaluation tent can expect a preliminary temperature and symptom screening, the tent staff follows established clinical guidelines to determine which patients are eligible for the drive-thru test. All patients can expect high standards for testing and referral protocol.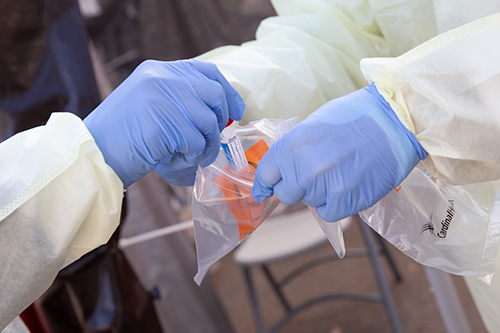 "We have clear processes in place if they are sick and need urgent evaluation," Suh explained. "We work closely with the Evaluation Treatment Clinic; there's always a physician on call there if we need backup. If it's someone who we know is going to need to be hospitalized, we can do direct admission from the tent."
Most patients who come for evaluation and possible testing are able to go home afterward, but the team makes sure to give them clear instructions on follow-up.
"Something that we're seeing with this disease is that patients get very sick very quickly," Suh said. "Keck Medicine has been very thoughtful about what that follow-up looks like and having a lot of different processes in place so that none of our patients are falling through the cracks."
The benefits of a team-based mindset
According to Matsuura and Suh, the ability to work closely together under these unusual conditions comes from a culture of mutual trust and authenticity.
"Regardless of who you are, anyone has a right to call someone out if they see something that doesn't look right," Suh explained. "It's about collective safety, and we want to watch out for each other."
End-of-day debriefings also provide a chance for tent staffers to speak up.
"It's really an opportunity for the team to discuss what went well, what could have gone better," she said. "And so really, they're the ones who are identifying the issues, the pain points and also the ones generating the best ideas, because they're the ones doing it."
Suh adds that it has a positive impact on morale, as does the mission itself.

"I think people feel the work they're doing is very meaningful" she said. "That's really important right now."
— Kate Faye