A frightened 39-year-old woman with young children was referred by a friend to the USC Norris Comprehensive Cancer Center and Hospital because of recurrent lung cancer. A multidisciplinary team, including a radiologist, pathologist, surgeon and oncologist, evaluated her case.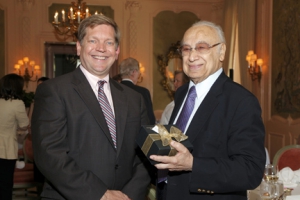 USC Norris Comprehensive Cancer Center Director Stephen Gruber (left) and Legacy Circle member Jim Bonorris at the Legacy Circle luncheon
Photo/Steve Cohn
Within a week, the woman came to USC Norris, where a lung cancer expert performed minimally invasive robotic surgery. The pathologist performed molecular profiling of her tumor to determine which targeted drugs would be helpful to her.
When USC Norris Director Stephen B. Gruber, MD, MPH, visited the woman the day after surgery, "she was sitting up in bed laughing with her husband and eating ice cream," he said. … Read More »