They wait at the ready outside the medical facility on the University Park Campus. Their goal is to keep patients and staff safe, evidenced by their personal protective equipment and thermometers. Those who approach them are greeted with smiling faces and comforting words.
"USC Student Health is here for our students and our community," said Thu Nguyen-Knowles, MSN, RN, executive director of clinical operations. "We are trying to be consistent in providing access for our patients. Nothing has changed. It's still easy to get care."
Before COVID-19 entered the public consciousness in the U.S., the staff at USC Student Health was already getting ready. The team had one goal: making sure USC students could get the health care they need.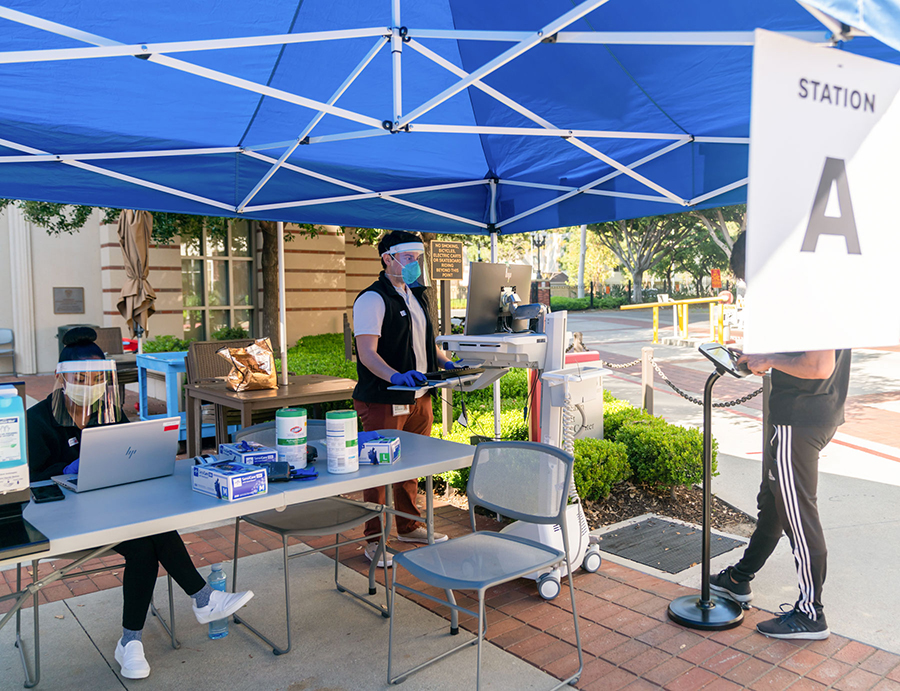 Months later, while much of the county is shut down, 40 staff members still travel to the Engemann Student Health Center each day to treat students. Dozens more work remotely to give health advice to patients over video, schedule appointments and offer support.
When the university made the decision to shift classes online in March due to the pandemic, student health providers followed suit. They rapidly converted many in-person appointments to telephone and video consultations. To this day, USC students with any health-related questions can call a nonemergency 24-hour hotline at 213-740-9355.
University health officials also monitor an email hotline for anyone with questions or concerns about the novel coronavirus at covid19@usc.edu. Students with symptoms of COVID-19 can be tested at the center, with results usually available in 24 to 48 hours.
"Even with the transition to telehealth and teletherapy, we are continuing to provide support for our patients," Nguyen-Knowles said. "The physicians, clinicians and therapists are booked, and at about the same level as when we were on campus."
Alongside move to telehealth, USC care providers still see students in person
To minimize the threat of spreading COVID-19, schedulers have postponed many routine medical visits for USC students, especially wellness checks like annual physicals.
Providers now see most patients via telehealth, but they still treat about 12 students each day at the Engemann Student Health Center, Nguyen-Knowles said. To see a health care provider at the facility, students first complete an online screening.
One reason students visit the center: A care provider might need to listen to their lungs with a stethoscope for signs of infection. Physicians might also need patients to get lab tests, Nguyen-Knowles said. "The patient who says, 'I think I twisted my ankle when I fell off my skateboard,' we may need to have them come in for an X-ray."
When patients arrive at the center, staffers posted outside ask about the care they are seeking. If they need in-person care, the screening team takes each patient's temperature and asks questions to assess the student's risk of exposure to COVID-19.
Access to mental health care for USC students increases with telehealth
USC students also have new options to receive mental health support through expanded remote offerings. USC Student Health holds daily mental health drop-in sessions on Zoom, regardless of where students live. Students can join workshops on topics like how to deal with pandemic-related disruptions, connect with others and maintain their sense of hope.
"Things are not normal right now, and we recognize that our students are in a new situation where they need us more than usual," Nguyen-Knowles said. "Because of that, we have increased Let's Talk and other sessions to help our students find some normalcy during a pandemic."
Individual therapy and counseling sessions for students in California are also available through the university's patient portal, My Student Health Record. Students living in other states can check USC Student Health's website to determine if they are eligible for web-based counseling services through an outside provider.
Additional mental health resources for students and other members of the USC community are available online, such as tips on coping during stressful times and access to free mindfulness classes.
USC leaders call on students to help stem the tide of the novel coronavirus
Because most USC students are in their late teens, 20s and 30s, experts expect those diagnosed with COVID-19 to recover. But health officials said USC students can take action to protect others who are more vulnerable, whether that's due to age or medical conditions.
"It's really about how we can minimize their exposure to their parents, to those who have congestive heart failure or diabetes — the more high-risk people," Nguyen-Knowles said. "This is how we can help the bigger community and decrease the number of sick patients ending up at the hospital."
To encourage students to follow recommended guidelines and limit the spread of the illness, USC regularly reminds them about how they can help. Wash your hands regularly, Nguyen-Knowles said. Practice social distancing by staying at least 6 feet away from other people at all times. Stay indoors as much as possible, avoid public areas and use protective face masks when going out in public is necessary.
"A lot of students are very up-to-date and knowledgeable about what is going on, and they are really helping the cause," she said.
Despite the uncertainty of the COVID-19 pandemic, Nguyen-Knowles expressed pride at how responsive and understanding her colleagues have been amidst an ever-changing situation.
"We appreciate the flexibility and support that every department has given here, especially the nurses and clinicians and front office folks who are on the front lines and coming in to work every day."
— Eric Lindberg