Keck Medicine of USC called for innovative ideas that would make an impact on resource utilization and efficiency of care for patients. More than 100 staff members responded.
The R3 initiative focuses on providing the right care, right resources and right cost for patients. On May 16, the top seven ideas in the first R3 Innovation Challenge were presented to a panel of judges at a "Shark Tank"-style competition in the Herklotz Seminar Room on the Health Sciences Campus. The room was filled to capacity as each finalist shared a presentation highlighting the financial or productivity impacts, intended benefits, sustainability and implementation strategies for their ideas.
"The R3 Innovation Challenge reinforced my strong belief that staff working in patient care have some of the best ideas for how we can do things better," said Rod Hanners, CEO of Keck Medical Center of USC and COO of Keck Medicine of USC. "And that certainly bore out with over 100 ideas that create efficiencies and better outcomes in delivering value to our patients, staff, referring providers and payers."
Nerwin Lin, Jynette Querubin and Christine Santiago from the Quality and Outcomes department placed first in the competition. Their initiative focuses on developing patient-centered hospital discharge care to prevent readmissions to the hospital.
The team won six months of reserved parking, the R3 Innovation Challenge trophy and a plaque.
Craig Kim and John Alexiou from Nursing Administration placed second with their ideas around improving nursing quality analytics. They won Apple watches and Disneyland passes.
Tvenn Kirkpatrick from PACU was the third-place winner with an idea to provide bedside caddies and pouches for patient's personal belongings to prevent the loss of those items, and won Disneyland passes. The other four finalists in the competition were given gas cards for their participation.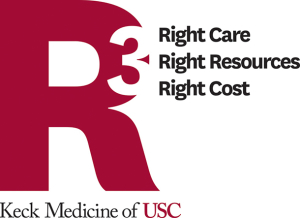 "The quality of the ideas submitted was exceptional and an effort is underway to assess the opportunities associated with more than 90 ideas that didn't make it to the final round, but had promise to improve operations," Hanners said. The competition was orchestrated by the Interprofessional Finance Council and R3 Innovation Challenge Committee members Felipe Osorno, Betsy Schafer, Paul Kangethe, Canybec Sulayman, Jason Willardson, Nistha Bhatt, Don Gordon and Alexis Young.
— L. Alexis Young