By Amy E. Hamaker
Bernice Christenson has a long history with USC, beginning with her time studying for her master's degree in education in 1955. She was a founding member of the Keck Hospital of USC Hospital Guild, and president in 1995; she received the Widney Alumni House Award in 1997 for outstanding leadership, volunteerism and loyalty to the university.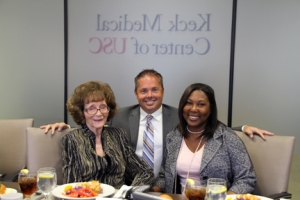 Keck Hospital of USC and USC Norris Cancer Hospital CEO, Scott Evans, PharmD, and Luanda Grazette (right), MD, MPH, associate professor of clinical medicine at the Keck School of USC, celebrate the gift of a Cheetah NICOM monitor from Bernice Christenson (left) at a special luncheon in Christenson's honor.
(Photo/Amy E. Hamaker)
At 95 years old, Christenson continues her support of USC through the gift to Keck Hospital of USC of $15,000 for a noninvasive monitor that will help physicians to better evaluate cardiac conditions with less discomfort to patients.