From the first wave of the COVID-19 pandemic, administrators and staff at Keck Medicine of USC learned valuable lessons about the day-to-day realities of keeping people safe while still providing high-quality care. These lessons helped to inform when and how the health system could safely resume regular operations while still caring for those suffering from the pandemic.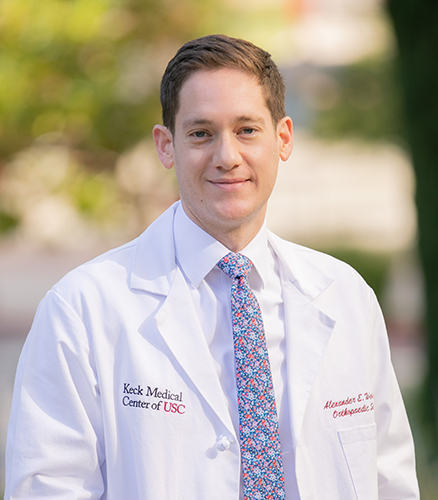 "I think it's a real credit to USC and to our leadership because — faster than a lot of other hospitals and health systems — we were able to get back to elective surgery," said Alexander Weber, MD, an orthopaedic surgeon at Keck Medicine. "We put into place some really excellent protocols and procedures to keep patients and our staff safe."
One of Weber's first patients to return, actor Derek Cecil, best known for his roles in The Outsider and House of Cards, has expressed similar gratitude for the opportunity to start his recovery journey.
A random accident with significant consequences
In the winter of early 2020, Cecil went to Copper Mountain, CO, to help his brother celebrate his 40th birthday. Cecil, his brother and a friend enjoyed exhilarating ski runs for three days. Then on the fourth day, a random accident changed everything.
"I got tangled up in the lift line," he explained. "Someone had inadvertently gotten on the back of my ski. I started going slightly to the left, but the back of my ski went far to the right and twisted my knee around."
Cecil initially experienced severe pain, but it subsided so quickly that he thought the injury was not serious. He went back to his regular activities — and soon realized something was wrong. When playing with his two children, or even taking the garbage down to the curb, he felt like the top part of his leg might slide off of his knee.
Cecil had an MRI which revealed a torn anterior cruciate ligament (ACL.)
The patient meets his surgeon
His longtime physical therapist recommended he meet with Weber at Keck Medicine because she noticed that his patients did quite well after surgery.
When Weber first met Cecil, it was clear to him that reconstructing the torn ACL would be the only way to get the actor back to the activities that mattered to him.
"With an ACL tear, it is very difficult to go back and do things like play with the kids, run, play sports and ski without a reconstructive surgery," the sports medicine surgeon said.
They scheduled Cecil's surgery for March 13, but by March 1, COVID-19 had reached the United States. Stay-at-home orders were put in place, and Keck Medicine hospitals put elective surgeries and other services on hold.
The abundance of caution would pay off soon enough. By late April, doctors were informed that business resumption practices had been put into place. They could start rescheduling delayed elective surgeries.
Replacing an ACL under pandemic conditions
"The number one priority for us is patient safety," Weber said. "I think it's really a credit to the Keck Medicine health system for really being aggressive about getting safety protocols in place so that we could safely see patients in the office and do our surgeries."
To make sure Cecil would not present a risk to others, he was tested for COVID-19 two days before his surgery. He was relieved to find out he was negative.
To replace Cecil's ACL, Weber used an allograft tendon, or "a framework, or lattice" of connective tissue taken from a cadaver.
"It is human tissue," the doctor explained. "It is acellular, which means it does not have any of the DNA of the donor."

As Cecil heals, his own cells are growing into the framework, making the new ACL his own. As for the surgery itself, Weber said it "went phenomenally well."
Collaboration continues for a successful recovery
The success of Cecil's recovery required him to start moving three days later.
"I was nervous to hear that, but to be honest with you, I can see why now," Cecil said.
Cecil was able to stop using crutches less than a month after surgery. Within a few days, he was able to loosen his brace and to switch from prescription pain medication to ibuprofen. Still, Weber stressed that the key to the actor's recovery will be patience.
"It will be nine months to a year before I let him go back and do everything," he said. "He will physically feel able to go back and do everything much sooner than that. The reason we restrict him and hold him back is because the graft that I put in his knee needs to mature and heal."
The surgeon added that while every patient has their own recovery process, he feels particularly optimistic about Cecil's.

"I have no worries whatsoever about him making a full recovery and getting back to skiing, playing with his children and doing everything he wants to be doing."
As for Cecil, he is quick to express appreciation for Weber and his team.
"You know, I feel like it's sort of the recovery I dreamed of," he said, adding, "I'd recommend the experience to anybody that had my circumstances."
— Kate Faye