Editor's note: After publishing this story in 2020, Timothy Thomas died in 2022. Our condolences to those who knew him.
Every morning since Timothy Thomas was discharged from Keck Hospital of USC in February, he and his family take a two-mile walk around their neighborhood. Walking is good for his new heart, and spending time outdoors after a long hospital stay lifts his spirits.
"My breathing is awesome," said Thomas, 36, who spent eight months in Keck Hospital after suffering a heart attack and learning that he needed a heart transplant. "I feel like I can walk long distances again."
Thomas experienced one of those unfortunate cases of a heart attack striking without warning. Thomas, who is a contractor, was on the job overseeing a kitchen remodel in June of 2019 when a sudden chest pain sent him to the sidelines.
Although he thought he just needed a rest, Thomas ended up in a local emergency room where doctors found a clot in his artery. They also realized that Thomas needed a higher level of care than they offered and transferred him to Keck Hospital of USC, where he arrived intubated, in shock and in need of mechanical support to keep his heart pumping.
Options for advanced cases
A number of devices are available to save the lives of patients in heart failure, but not all are available at every hospital. "A lot of patients are sent to us because we have all available tools and capabilities," explained Mark Cunningham, MD, a cardiothoracic surgeon at Keck Medicine of USC and associate professor of clinical surgery at the Keck School of Medicine of USC.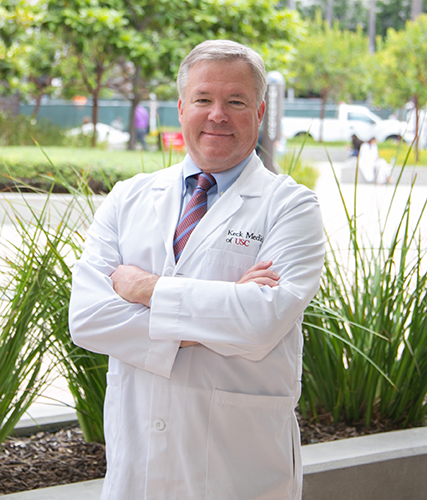 Cunningham, who also is acting surgical director of the mechanical circulatory support program and surgical director of the heart transplant program at Keck Medicine, added that different mechanical circulatory support devices are appropriate for different patients and the level of mechanical assistance their heart needs. "We are able to use all of these and scale them as patients need more support," he said.
Some patients may only require one type of device to keep their heart working while they wait for a transplant. One thing that was unusual about Thomas, noted Cunningham, was that he was one of the complex patients who required several different devices during his stay to keep him alive.
The heart transplant team at the USC Transplant Institute employed an intra-aortic balloon and a small pump inserted into the heart using minimally invasive techniques. He also was put on an extracorporeal membrane oxygenation machine, or ECMO, which does the work of the heart and lungs by oxygenating blood outside the body and pumping it back into the body. He also required a bi-ventricular assist device, or BiVAD, which helps the heart function when both sides of the heart are failing.
During his eight-month stay in Keck Hospital, Thomas went on and off the transplant list several times because he experienced several serious setbacks, including suffering a stroke; an aortic dissection that required emergency surgery; a bout with pneumonia; and a stint on a ventilator.
Keeping spirits high
Until the day he had his heart attack, Thomas considered himself a healthy person. He had been a college athlete and his work as a contractor kept him active. Both of his parents, however, had heart disease. Cunningham noted that genetics can explain why some young and active people develop serious heart conditions.
Although Thomas's body was failing him, his spirits never did. When he was well enough, he prodded the medical staff to help him get up and walk around the hospital as soon as he was able. He worked with a physical therapist to put together a routine of modified exercises he could do even while tethered to machines.
He also leaned on his faith, spending many hours in his room reading the Bible. There were times when he was sedated, but could hear his nurses, who knew he was a man of faith, reading scripture to him when he couldn't.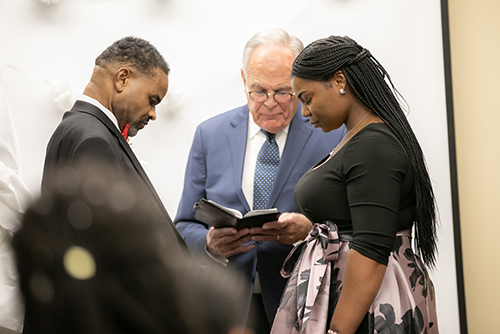 "The doctors and nurses went above and beyond," Thomas said. They brought him games and a CD player and special food from the farmer's market and nearby restaurants to help keep his weight up.
The only thing that got him down, Thomas said, was missing family celebrations. He missed the birth of his youngest child, birthdays of his other children and holidays including Thanksgiving and Christmas. In January, he and his fiancé, Keira, decided there was one family celebration they did not want to put off any longer: their wedding.
Thomas's nurses arranged for a visit from a barber, rented a tuxedo and filled a meeting room in Keck Hospital with flowers. The team from patient experience donated a cake and his doctors arranged for the occasion to be catered and toasted with champagne. Shortly after the hospital chaplain pronounced them man and wife, Thomas got the wedding present he hoped for: a new heart.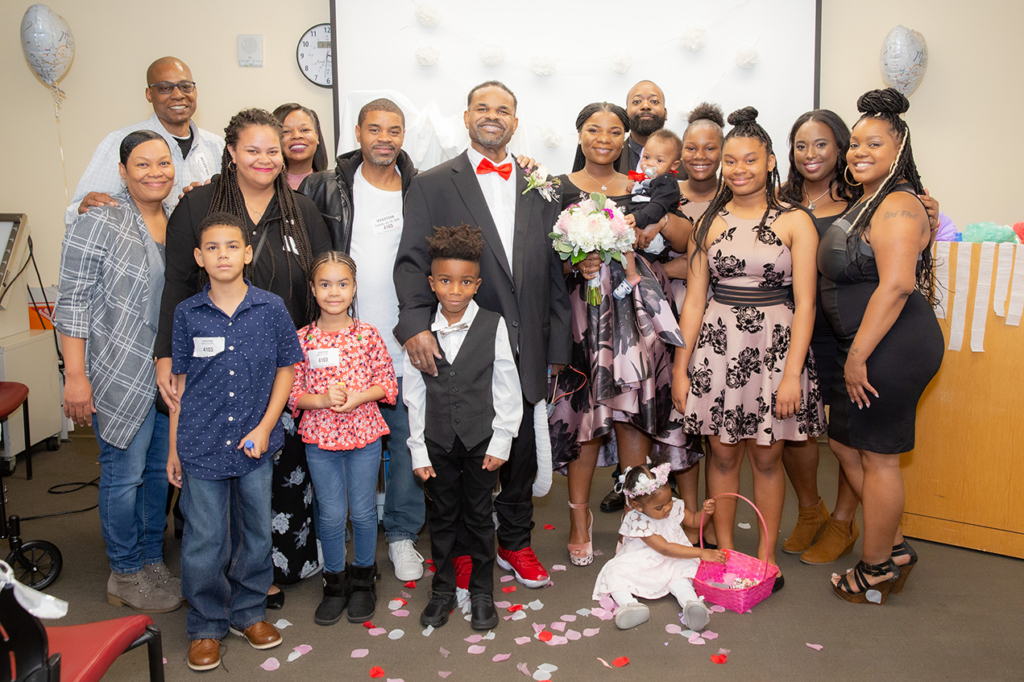 Several months after returning home, Thomas continues to improve and is grateful to the medical staff at Keck Hospital as well as to the donor. Because of them, he said, he gets to see his children grow up.
"I am so thankful to have a second chance at life," he said.
— Hope Hamashige