Amidst the pandemic, barrier shields meant to protect patients and physicians from possible COVID-19 transmission went on national backorder. Charles DeBoer, MD, PhD, a second-year resident at the USC Gayle and Edward Roski Eye Institute, responded by spending his own time and personal resources to build PPE customized for ophthalmic exams.
"I saw a barrier shield design in the paper, 'Stepping up infection control measures in ophthalmology during the novel coronavirus outbreak: an experience from Hong Kong (2020)' and thought the way they implemented infection control made sense," said DeBoer. "So I copied it for our clinics and we refined the design."
DeBoer then recruited co-resident Diana Lee, MD, and two attending physicians, Vivek Patel, MD, and Annie Nguyen, MD, to collaborate on flexible polycarbonate barrier shields for slit lamps — the microscopes used to look into patients' eyes.
DeBoer's barrier shields now enable eye doctors to examine a patient closely while still reducing the risk of infection, both at Los Angeles County + USC Medical Center and Keck Medical Center of USC ophthalmology clinics. This is just one example of how residents are adapting to issues caused by the ongoing COVID-19 pandemic.
In addition, residents are continuously implementing the latest COVID-19 industry responses provided by the American Academy of Ophthalmology (AAO). They are strengthening their history-taking skills to learn more about their patients and have increased in-depth discussions with their fellow residents, fellows and faculty. Furthermore, residents are learning how to use new technology to provide telehealth services to meet patient needs.
"Telehealth allows us to perform a quick external exam of a patient's eye," said Hong-Uyen Hua, MD, a second-year resident. "While it does not allow for a full assessment, it can help patients avoid in-office visits for non-urgent issues."
Hua elaborated that patients often call with eye problems that can be resolved over the phone. Several patients who tested positive for COVID-19 have called with concern that they are developing an eye infection, as well.
"In this situation, we ensure that the patient has no vision-threatening issues. We educate and counsel them on supportive care, emphasize the importance of social distancing and make sure they practice good hygiene. As a result, we minimize exposure for everyone."
Several residents expressed their belief that COVID-19 will permanently affect the ophthalmology landscape and that it has opened the door for telehealth to play a more prominent role in the field.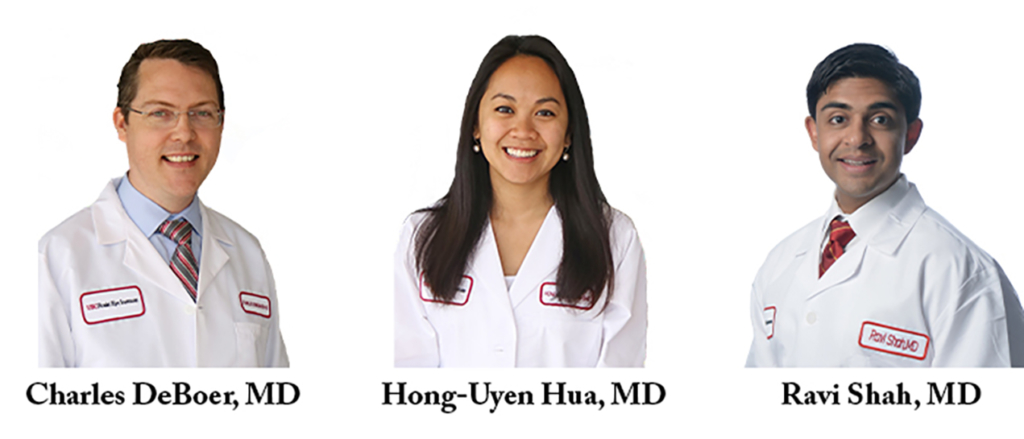 Ravi Shah, MD, a third-year resident and co-chief resident shared that when not working with patients, residents are reading journal articles and studying for their annual Ophthalmic Knowledge Assessment Program (OKAP) exams. In addition, the residency program's education curriculum has quickly shifted to online learning. All faculty lectures and grand rounds continue to be conducted via Zoom.
Despite the disruption that COVID-19 has caused to the residents' training, they share great pride in their colleagues' resilience.
"Too often likened to war, this pandemic has heroic troops battling this microscopic, insidious enemy every day," said Hua. "When we chose medicine as a career, no health care worker imagined we would have to risk our own lives to save others. I am in awe of all of my colleagues on the frontline. I feel re-affirmed in my decision to choose medicine as a career and vocation during this unprecedented pandemic."
— Eric Weintraub