Andrea Banuelos Mota and her family — mother Magdalena Banuelos, husband Jose Luis Rodriquez and 8-month-old son Joey — gathered in front of her computer at her San Fernando home early March 19. When the email arrived, they knew where Banuelos Mota would be headed for the next phase of her career as a new doctor.
Match Day had arrived for Banuelos Mota and the rest of the Keck School of Medicine of USC's graduating medical students. Under the tradition, which dates to 1952, every Class of '21 MD candidate in the country learned, at precisely 9 a.m. Pacific time, where they had been "matched" for residency programs.
"It was amazing," Banuelos Mota said of the experience. An MD-MPH candidate, she was paired with her first choice: the Family Medicine program at UCLA Santa Monica Medical Center. Her home was decorated with cardinal-and-gold balloons and bouquets of flowers.
"We gave each other hugs, gave a toast, and cried," Banuelos Mota said.
Nationally, 19,866 M4s participated in the match, including 191 from the Keck School. Of those students, 61% will stay in California for at least some of their training, and 25% will remain at USC for some or all of their training.
On a Zoom gathering, some 200 students congratulated each other in joyous relief after four years of hard work.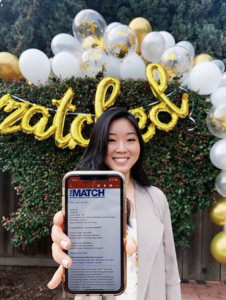 Catherine Wang, an MD candidate from Cupertino, also drew her first choice: Stanford Medicine's dermatology program. She'll serve an intern year at California Pacific Medical Center in San Francisco before moving on to Stanford for three years.
"It's definitely stressful waiting for it, but I'm very lucky that I've had a really good support system, and I have really great mentors, so it's nice that I'm able to lean on them," Wang said. "My older sister set up our back yard with balloons, and my whole family was there when I opened my email. It's been really nice."
Banuelos Mota has made social justice and reducing inequalities in health care part of her mission. She'll be working closely with Yohualli B. Anaya, MD, MPH, who received her degrees from the Keck School.
"There are a lot of things I'm excited about, but part of it is I'll be working with underserved patients, as well as some amazing faculty," Banuelos Mota said. "What I'm really hoping to do in residency is a) become a great doctor to care for my future patients, and b) continue being involved with patients in addressing health equity and low-income patients in Latino communities."
Although the Keck School's soon-to-be doctors come from many different backgrounds, they have one thing in common: They've persevered through a second straight academic year of the COVID-19 pandemic, engaging with a mostly virtual curriculum. But they've still been able to complete their education, which includes training at LAC+USC Medical Center, and helping patients.
"I want to congratulate every one of you for not only your hard work and amazing accomplishments, but also your incredible ability to adapt and thrive in a constantly changing world of health care delivery, and the pandemic," Narsing A. Rao, MD, Interim Dean of the Keck School, said in a video message to the students. "I hope the knowledge that you have gained and the experience that you have had here at the Keck School of Medicine will serve you well as you continue on your journey."
— Landon Hall