On March 30, Keck Medicine of USC celebrated National Doctors' Day, a time when the health system acknowledges the vital contributions physicians make throughout the enterprise.
"Although this celebration occurs annually, this year's Doctors' Day is especially significant," said Rod Hanners, interim chief executive officer for Keck Medicine. "Because of the COVID-19 pandemic, our physicians have unselfishly stepped forward to confront and resolve an unprecedented demand for care and healing. Through all the uncertainty and hardship of the current moment, our doctors have steadfastly remained beacons of hope and stability."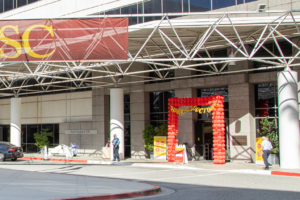 In honor of this occasion, the Health Sciences Campus installed commemorative Doctors' Day window clings at the entrances of Keck and USC Norris hospitals, and special edition employee badge stickers were distributed at facility entrances throughout the enterprise.
Additionally, Keck Medical Center of USC hosted a grab-and-go breakfast. Taking place at Keck Hospital's Hoffman Café and USC Norris Hospital's Matson Conference Room, over 100 residents and physicians stopped by the locations to receive a hot meal and a Doctors' Day gift.
At USC Verdugo Hills Hospital, this year's Doctors' Day also coincided with the hospital's quarterly medical staff meeting. This hybrid event, taking place both virtually and in person, used the opportunity to honor faculty and community physicians by bestowing upon them a special Doctors' Day gift as well.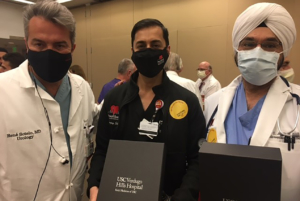 "For many people, the idea of a doctor is someone who simply treats the physical and mental ailments of the body," said Stephanie Hall, MD, MHA, chief medical officer for Keck Medical Center. "However, as we all know, being a physician involves skills and responsibilities that far exceed the everyday duties of curing illness. During both times of calm and national upheaval, our physicians continue to guide their coworkers and the communities they serve."
The first Doctors' Day celebration was observed in 1933 in Winder Georgia, with the March 30 date chosen to mark the anniversary of the first use of general anesthesia in surgery by a Georgia physician in 1842. During the celebration, community members mailed greeting cards and placed flowers on the graves of deceased doctors. Now, the red carnation is commonly used as the symbolic flower for Doctors' Day.
"Doctor's Day is a time for us to thank our physicians for their unwavering commitment to providing our patients with compassionate, high-quality care," said Armand Dorian, MD, MMM, interim chief executive officer and chief medical officer for USC Verdugo Hills Hospital. "Although a patient experiences many emotions when entering a hospital, fear is often the most prevalent. What sets our physicians apart is their incredible dedication to easing patient anxiety, and competently replacing it with a sense of comfort and optimism."
On February 21, 1991, President George H.W. Bush proclaimed that Doctors' Day would be observed as a national holiday and signed it into law. Since then, the nation has come together every March 30 to honor physicians for their commitment to exceptional patient care.
"Because of the efforts of our physicians, Keck Medicine is able to offer environments of healing and compassion to patients from Southern California and beyond," said Smitha Ravipudi, chief executive officer for USC Care Medical Group. "Without a doubt, Keck Medicine doctors are an integral part of the fabric of our medical enterprise, and we want to thank them for their invaluable knowledge, expertise and level of care they bring to our communities."
To further celebrate this occasion, Keck Medicine administrative and clinical leadership produced a video message expressing their gratitude for the health system's physicians.
— Matthew Vasiliauskas