An overflow crowd of friends, family and coworkers gathered  Jan. 7 in Mayer Auditorium for a memorial service in honor of Yoshimasa "Yoshi" Makino, MD, an assistant professor of clinical medicine with the Keck School of Medicine of USC, who died Dec. 12 on the USC Health Sciences Campus. He was 38.
Makino, a gastrointestinal medicine specialist, had worked as a faculty physician at USC since 2010 and cared for patients at LAC+USC Medical Center as well as in the Internal Medicine practice and at the USC Norris Cancer Hospital GI Laboratory.
"Yoshi was a beloved member of our medical school faculty. We mourn this tragic loss and send deepest sympathies to his family and friends," said Carmen A. Puliafito, MD, MBA, dean of the Keck School.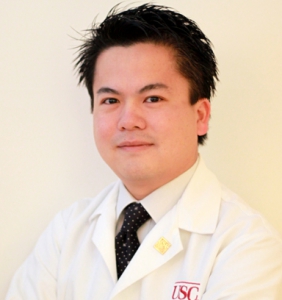 Andrew Stolz, MD, associate professor of medicine, was one of the featured speakers at the memorial. He and other speakers described Makino as an energetic and enthusiastic colleague with a keen interest in technology. He had become a "go-to guy" on technology issues in his department, serving as an on-site troubleshooter for the equipment used in endoscopic procedures.
Neil Kaplowitz, MD, chief of the division of gastrointestinal and liver diseases and Thomas Brem/USC Associates professor of medicine, said, "Yoshi was brilliant — extremely involved in technology, systems and data analysis."
During the memorial service, Kaplowitz described Makino as a "special individual" and noted his skills as a problem-solver.
Namir Katkhouda, MD, professor of surgery and director of metabolic and bariatric surgery, told the memorial audience that Makino was a gentle and kind man and a great doctor. "Patients loved him," Katkhouda said.
Makino was known by his colleagues as a wonderful clinician, a great teacher and an avid Trojan football fan. He wore the USC colors proudly, Stolz recalled, and often could be seen wearing a USC scarf or tie.
"Yoshi was the truest cardinal and gold Trojan fan who ever existed," said Stolz. "He seemed to know statistics about every USC football team and player, and he managed to get himself photographed with every recent coach."
Kaplowitz also will remember Makino's devotion to USC athletics: "He was the biggest Trojan football fan on the faculty."
Makino was enthusiastic and personable. "He was a great teacher of med students, residents and fellows, and a superb doctor who was adored by his patients," said Kaplowitz.
Also speaking at the memorial service were friend and colleague Neema Aghamohammadi, DO; Erin Quinn, PhD, associate dean for Sciences and Health at  USC Dornsife College of Letters Arts and Sciences, and the Rev. Jim Burklo, associate dean for religious life at USC.
Makino had recently accepted a job at Ridgecrest Regional Hospital in Ridgecrest, CA. But he had planned to stay connected to USC by teaching a course in the executive master's program of healthcare administration at the USC Price School of Policy, Planning and Development.
Makino was born May 14, 1976, in Nagoya, Japan. He immigrated to Blacksburg, VA, in 1979, when his father pursued a master's in architecture degree at Virginia Tech. The family lived in Colorado before moving to California, settling in the San Gabriel Valley. He graduated from Arcadia High School in 1994, where he was a National Merit Scholar. He played clarinet for the Arcadia High School Marching Band and marched in the Tournament of Roses Parade.
He enrolled at USC as a biology major, but with only four more courses left to finish the major, he switched to public policy and management instead. Makino was drawn to the program because it is one of the few undergraduate programs in the nation specifically devoted to public policy and health policy. He earned his undergraduate degree in 1998 and was a magna cum laude graduate.
In 2002, he graduated from the Keck School of Medicine of USC, and served his internal medicine residency and gastroenterology fellowship with Keck Medicine of USC thereafter. He worked as a physician for IASIS Healthcare for two years before returning to Keck Medicine of USC as an assistant professor of clinical medicine in the Division of Gastrointestinal and Liver Diseases in 2010.
Makino was a member of the American Gastroenterological Association and was recognized for excellence in resident teaching by the Alpha Omega Alpha honor medical society in 2004.
His research activities were focused on biomedical informatics and he had received two research grants from the National Library of Medicine related to web-based applications in the health-care field.
His other interests included photography, graphic design and web application development.
Makino is survived by his wife, Akiko Makino, and their 14-month-old son, Brent, as well as his parents, Tetsuo and Yasuyo Makino, and a sister, Aiko Makino.
A tax-exempt college savings plan to benefit Brent Makino has been arranged with American Funds. Checks made payable to College America may be sent to Rob Schultz, NWF Advisory Services, Inc., 11835 W. Olympic Blvd. Suite 1150 East, Los Angeles, CA 90064.