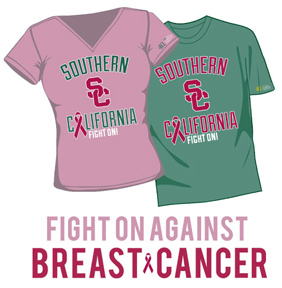 As part of its breast cancer awareness campaign, the USC Norris Comprehensive Cancer Center is offering specially designed breast cancer T-shirts for sale only through the end of October. Your purchase will promote breast cancer awareness while supporting breast cancer research at USC Norris.
Visit any USC Bookstore or hospital gift shop to get yours; you can also purchase one at www.uscbookstore.com/breast-cancer.
Additionally, on Oct. 26, get behind more than just the Trojan football team by celebrating breast cancer awareness at a USC Trojan football game. During halftime, USC Norris physicians, staff members, and former and current breast cancer patients will be recognized on the field as leaders in the fight against breast cancer.