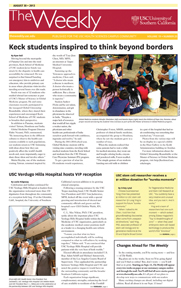 In the previous edition of The Weekly, we announced that we would be publishing biweekly starting with this issue. Many of you who pick up The Weekly at campus newsstands or receive it in the mail will continue to see us in print every two weeks.
If you want more of The Weekly, you can find us at www.theweekly.usc.edu. It's another way for you to catch up on the latest news from the Health Sciences Campus and other Keck Medicine of USC locations.
We'll be updating content regularly at The Weekly online. All the features and articles you enjoy will be there whenever you visit. You won't have to wait until the paper comes out — unless you prefer it that way.
Why are we making these changes? It opens up new opportunities to interact more spontaneously with our readers. We can share videos, more photos and links to additional content. Before long, we hope to offer opt-in email delivery.
The Weekly will continue to evolve and be supplemented by other types of digital communications. A flat-screen TV communications system is in the planning stages, so even more news and information will be close by and up to date. As we add more ways to share news, you'll see less of The Weekly in print. In January 2014, we plan to publish monthly.
Reducing the number of print editions is the green way to go. It will save paper, energy and other resources, and free up budget dollars to further enhance communications.
It's an idea whose time has come, but it leaves us with a burning question: Can a newspaper that's published biweekly or monthly still be called "The Weekly?"
We say "yes!" Beyond preserving the traditional name, we looked at the frequency of publication in print — and online. Even when the print version comes out monthly, the online version will be updated often, perhaps even daily. The flat screens will deliver content continuously. Averaged out, what do you get? The Weekly.
Now you can have The Weekly your way: in your hands or on the screen.
We'd like to know what you think. Write us at The Weekly, USC Health Sciences Public Relations & Marketing, Keith Administration Building, 1975 Zonal Ave., KAM 400, Los Angeles, CA 90033 or email us at hscwkly@usc.edu.
By going to print less often, we're bringing you more of The Weekly!