A small patch of green space behind Keck Hospital of USC's administrative offices has been transformed into a lush, soothing viewing garden thanks to the generosity of gracious donors.
The Keck Hospital of USC Garden was dedicated during a special ceremony on May 18. It is located just behind Keck Hospital's administrative suite, between its Gold and Cardinal towers.
"The redesigning of this green space was truly a labor of love on the part of so many generous supporters of our hospital and medical enterprise," said Keck Medicine of USC Senior Vice President and CEO Tom Jackiewicz. "Not only does this garden provide a much-needed green sanctuary for our patients but also a wonderful space for our physicians and staff to recharge throughout the day."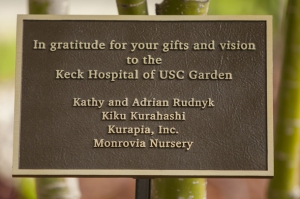 Inspiration for the renovated garden came from Adrian Rudnyk and his wife, Kathy. Adrian Rudnyak was a
patient at Keck Hospital when he noticed the small green space with metal seating and patches of grass from his hospital window.
"I remember what a sense of tranquility and calm it gave me to see these small areas of grass below," he said. "After I was discharged, my wife and I wrote a letter of gratitude and expressed our interest in giving back to the hospital by volunteering to help ensure a beautiful, serene garden could be seen from patient room windows."
Working with Keck Hospital of USC Associate Director of Development Mary Byrnes, the Rudnyks got brought together an A-list of professional friends to help, including landscape architect Kiki Kurahashi, who created the architectural drawings that provided the foundation for the redesigned garden. Kurapia, Inc. provided the drought-resistant ground cover. The Monrovia Nursery provided all the flowering plants and evergreens. And the facilities staff at Keck Medical Center coordinated the timely completion of the garden in just a few months.
"There is so much evidence on the impact that therapeutic landscapes and nature can have on a patient's recovery," Byrnes said. "We're grateful and excited that we were able to bring the right knowledge, support and people together to create this visually appealing and tranquil refuge."
— Tania Chatila